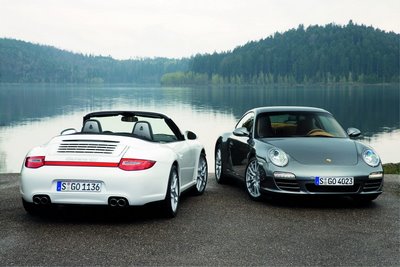 The Porsche released details on the all-wheel-drive versions Carrera 4 and Carrera 4S, which are available as Coupe and Cabriolet.
Leaving the aesthetic and engine/gearbox changes aside as they're the same with the RWD Carrera, the new generation Carrera 4 and Carrera 4S get an electronically controlled PTM Porsche Traction Management which replaces the former all-wheel drive with its viscous multiple-plate clutch. This system was initially developed for the 911 Turbo and modified for the Carrera 4 models.
Porsche promise that depending on the model, the new all-wheel-drive Carrera offers up to 8.5% more power, up to 12.9% more fuel economy, and 15.4% lower CO2 emissions.
The improvements on the 911 Carrera 4S with its 3.8-litre power unit are equally important, with maximum output up by 30 to 385Hp on overall fuel consumption down in the case of Carrera 4S Cabriolet with the PDK gearbox to 10.7 litres/100 km or 26.4 mpg imp. All all-wheel-drive Porsche Carrera models will be available at Porsche dealerships from October 25.